When we went to Manila last summer, we heard that in Manila Ocean Park they have their magical snow there that everyone must experience. After the swimming competition, we headed there, immediately so the kids could experience and so they could enjoy playing in the snow.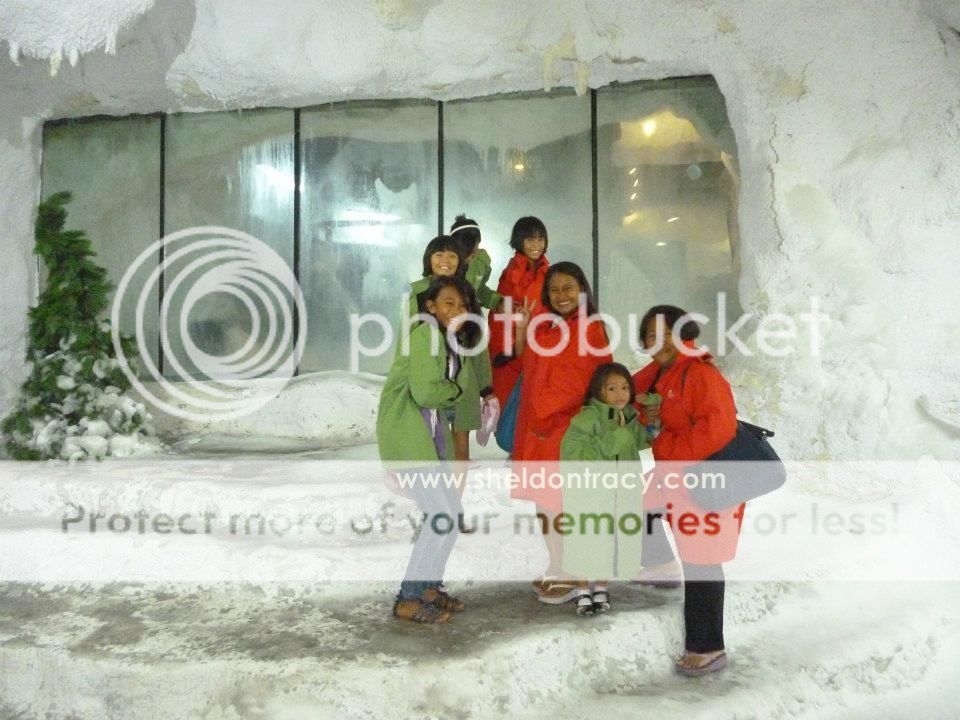 Good for my eldest because she was able to wear a pair of jean but F and I wore shorts so we were really freezing. We were so excited that we went immediately inside the snow village, we should have took the other way around to watch more penguins and for the kids to enjoy the slide. Anyway, as we were freezing already, we didn't stay long.
As we stayed there like 10 days, we could not just stay the whole day inside of the inn that we rented. So we went to Star City, the moment we entered inside, we immediately look for their snow world. We had so fun, the kids were able to slide in the snow, and my sister and I just walk around shaking. We could not used out camera inside so we hired a photographer to take a picture of us there.
We had so much fun, especially the kids. Of course it feels like for them, they are really in a snow place. Between the two spots, I like more the snow world in Star City because they have the bigger place to roam around.
My friend and her family went to Bohol last Wednesday; they purchased their ticket in AirPhil. They were so confident that nothing will happen along the way as they board on a plane. But to their surprised, the Air Phil made an announcement that there will be a delay of flight, it was okay then since it is the safety of the passengers must be prioritized when there's a change of weather or any emergency that might occurs if they insist to take off but the thing is they were not offered any foods for lunch. The staff said they are not offering because the plane is coming over at 1:00 p.m., but it delayed again for another hour and the passengers are starving.
I am confused because I heard in the news that there's already a policy that if there's a delay of flight, the management will going to cover their food allowance and or hotel to stay but why is it even they were delayed for two hours or more, the Air Phil does not even offering lunch for their passengers. Was it already implemented or they are still debating for it to be implemented.
SM I think, was the first mall who uses paper bag for their environment campaign, so every Wednesday they are not using plastic bags to put all the groceries but a paper bag instead.
Just recently I bought a magazine in the bookshop, the staff just gave me the magazine without putting it in a plastic bag, I asked for a plastic bag but she said, they are not allowed anymore to use plastic bag. I was okay with it; at least this could minimize plastics in the garbage.
When I went to one of the malls here to grocery shop, a notice was put in their plastic bags, biodegradable plastic, I asked about it and the staff said, the plastic that they are using for grocery items are environment friendly, it would slack easily and the span is just 6 months.
I just heard it recently that the malls are using biodegradable plastics and they will have fines if they are using the not biodegradable one. This is good to all of us, in that way, this will help minimizes the garbage that surrounds us everyday, kudos to all the malls who are using the environmental friendly plastic bags.
When we went to Cebu for an interview, I brought my eldest daughter with me, I know she will get bored without anything to busy with when are on a plane and while traveling from the airport down to the hotel that I called to stay at, so I told her to just bring her with her Nintendo Wii, but you know what I was wronged to tell her that because inside the taxi cab while I enjoyed the view outside she was too busy with her games, she was not able to appreciate the new view, the new city that surrounds her. If she was just so attentive with her surroundings she might enjoy it also as much as I do. So when we arrived at the hotel, I told her to just leave her Nintendo inside the hotel while we go out to see what's outside, she agreed with me and she just charged it instead. I was right though because she was astounded when I brought her in Magellan's Cross, she could not believe it that she was able to see it in real, she has been reading that in the book at school and she was so happy that she was able to have her picture taken there.