Browsing Category: "Beaches"
A beach side getaway is the type of vacation you look forward to all year long. Vacations are a precious time of year that you save your time off and money for, and you don't want to be disappointed once it finally arrives. To ensure a successful and enjoyable holiday, spend a little time pre-planning.
Lodging
It is very important to choose lodging that meets your needs. Think about how many people will be in your group and how you plan to spend your time. Couples are often quite happy with a standard room in a local hotel or resort. Families and large groups will be more comfortable in a suite or one of the vacation rentals bald head island has to offer such as the homes from Seabreeze Rentals.
Food
A large portion of your vacation budget will go for food. If your lodging includes a full kitchen, you'll be able to make some of your meals yourself. Those staying at a hotel or resort may be able to take advantage of complimentary breakfasts. Otherwise,you need to do your homework before you leave home. Make sure the area you are staying in has restaurants and eateries nearby. Many establishments post their menu online. This will help you plan which ones will best suit your tastes.
Activities
Activities available in the top tourist areas can book up quickly. Before you leave home, decide which ones are the most important to you and your companions. Make sure you book these ones in advance and pre-purchase tickets. Waiting until you arrive could result in being told they have no openings left. Don't go overboard with your planning. Save room for a little spontaneity as well.
By taking the time to pre-plan for your beach vacation, you will be ensuring a happy and enjoyable getaway. The time and effort it takes to do this will be greatly rewarded by a headache free vacation in a beautiful location.
Just this month, that was December 2nd to be exact, we were able to join our previous swimming team to their Christmas Party. I tagged with me my niece Mariel as well; we met our friend in Jollibee at Ulas so we can go together in Cavanico Beach Resort in Samal. We arrived at the resort at least before noon. The resort was amazing; they have lots of things you can do there. The view is breathtaking, even if the  resort was a bit near the port. They were able to organize everything. The resort also has pool if you don't like to soak yourself in the beach. They have activities paraphernalia, like speed boat, banana boat, things that you can enjoy in water. The rooms that we rented is clean, beds stored there can accommodate 8 people. From the entrance, since the cottage we rented was a bit far, they have small cabs that you can ride to go to your cottage so you have the option to walk or get a ride.
Of course whenever you go to Samal, expect a white sand then.
My youngest daughter with her signature pose
I and niece in the bedroom 
Take a look at the view
If you want to check for more please visit their Facebook page and or you can contact them on this phone numbers: 09173207349, 09985809837. Landline numbers are: 082 225 1562 and 082 225 1625.
When we were on our way to the beach last Sunday, I was already suspecting our car I just ignore it because I know if I do, I may not be brave enough to drive the car to the beach. Good thing, it survived even though it was very very hot. We arrived at the beach at 12: 00 noon we were already starving; we took our lunch right away.
My brother in law did not bring his motorcycle, sister said he doesn't have enough sleep so there is no way he can drive so they just took a taxi cab going to the beach with my daughter and her cousin Dodong. They enjoyed the barge so much that my sister can't help herself but to take some pictures.
We waited on queue on our way to the Barge, yeah we need to wait for almost an hour so we can bring the car to the venue, the car needs to be carried by the Barge. Good thing that while waiting I did not forget to take a picture of us. Sister Merlyn, Faith, Ate Moreen and Kuya Yan Yan were the one with me inside the car.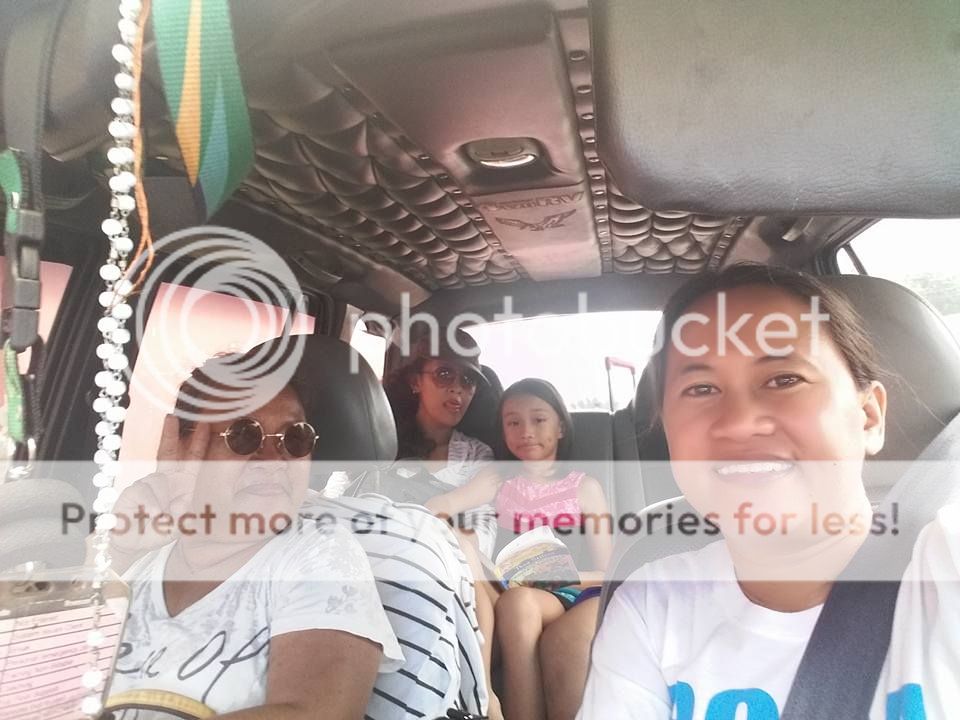 Since March I'd been planning a beach getaway with my family, I was thinking Camp Holiday but recently I am contemplating with that and Paradise Beach Resort.
Camp Holiday offers almost everything, they have beach, of course obviously, we're talking about sea water, the thing is that it is beside a port and everyone going to the port or in the barge itself, everybody can see us swimming. I mean duh? It's a beach resort of course you can see everyone swims. On the other hand they also have swimming pool if you like to soak in chlorine water. I am sure, my kids especially Faith would love and will enjoy the place.
Why confused all a sudden of what beach I wanted to go with my family?
Convenience for all of us and money matter of which place is the most affordable. And besides I miss Paradise, it has been a while since I haven't been in the resort. The last time I went there is with a friend and her family, and it was like how many years ago already.
On the other hand, I supposed to call the resorts today but geez I was not feeling well this afternoon. I was in the mall ready to grocery shop but after I took my lunch my stomach aches so much that I could not even walk, when I went home I seek for my bedroom right away and lay down for how many hours. My youngest daughter put some menthol ointment on my tummy to relieve the pain. I woke up late and the offices are all close. I hope I can make a call tomorrow so to finalize this family getaway.
Disclosure: Pictures are not mine but from their websites