Browsing Category: "Beaches"
It was December that we were informed; we will have a new supervisor on January. But even before December ends, our supervisor was already assigned to a new team and we were left with an assistant supervisor. And since we will be no longer with our previous supervisor, we arranged an exchange gift party for the whole team. We agreed to have our exchange gifts in one of the Karaoke Bar in the city after last shift on that week. So it's just the right time since it will be our rest day the next day. 
This Karaoke bar is near the beach, so you can feel the breeze from the ocean. They only have an exclusive room for you to rent since the cottages will no longer available since Karaoke can interrupt the neighborhood.  It is just so affordable that the whole team can afford, we rented it for 4 hours only and I can tell you, it's all worth it. 
This is the previous team, we even got the first rank yet everything is so cool. The gift that I received from this small gathering is a matte lipstick and nail color. 
Our swimming club team held the Christmas party in the first week of December. They went to Punta Del Sol in Samal to hold the party. I have posted the beach resort here.
On the other hand, here are the fun photos during the event. My eldest daughter enjoyed it so much, although she was not able to received her gift that day, the memories that it brought is worth her time, it is priceless.
Here's the whole swimming team in our club
Kids enjoying their swimming break for the moment, yes they are doing their training usually everyday. And this is the only time that they can just have fun, not minding their speed at all.
My eldest daughter and her friends, they're not actually so hungry. LOL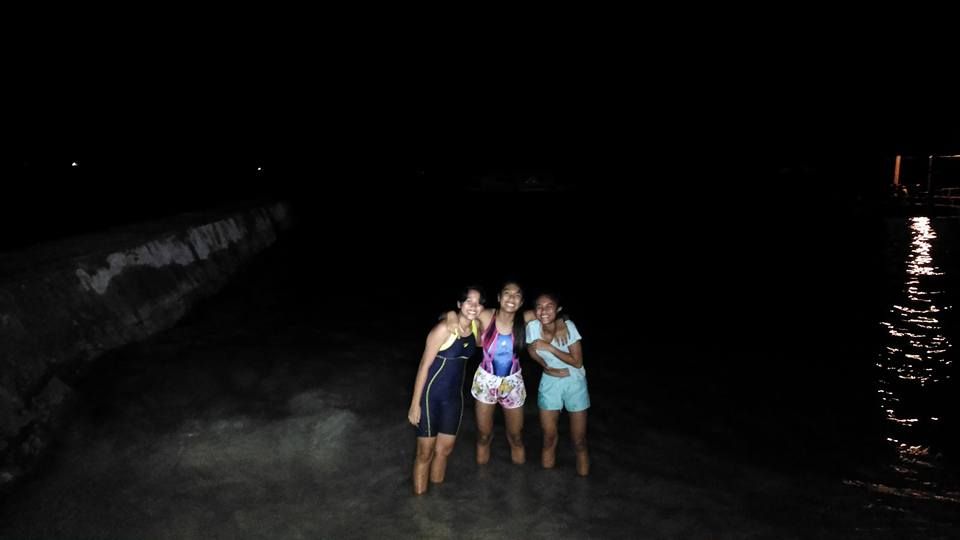 One of the closest she had in the swimming club
This was their pad for the night
Too bad I was not able to join since I had work at that time. Nonetheless I could had fun as well. Our team mate Christmas Party came afterwards. I will posting about next time.
The first time I went here was not good, the experience was bad. You might want to read it here. But the whole team decided to have a team building on Tuesday there in Isla Reta. Yeah, after of so many discussions on where to go, last week we finally come up to a decision that we will have our team building in Isla Reta. I hope though that they will turn around my experience so I can still look forward to be here again.
So the team is ready, I will tag along my niece with me on Tuesday. I already brought Mj and Faith before now it's my niece turn besides Mj and Faith has school and practice that day and we will spend overnight in the resort. Our supervisor said that there will be games and prices and the speech. Yeah, he will be assigned to another team, I hope not though I am still crossing my finger to it that he will not be assigned to another team. But if he will, we will miss him for sure, his coaches, his inspiring words that we can and the determinations and the hopes that he planted to us. Yet, we have to embrace the changes, we have to adapt whatever comes along our way, I know it is for us. The whole team will still be strong because of the wisdom that he left for us.
I always amazed with people who surfs, they are just so exciting to watch. They seem like their feeling the water so they can get to the top. Balancing is also very important so they won't get tipped and fall down. They have to feel the water and the waves. Here in the Philippines, surfers always go to Mati, where the waves are very wild and high, just so perfect for the surfers. In the US you can see most surfers in the Miami Beach, Florida.
In Australia there are like 8 best beaches that surfers would love to surf.
North Coast in Angourie to Byron Bay, New South Wales
Noosa, Point Break Queensland
Snapper Rocks Queensland
Seal Rocks and Pacific Palms, New South Wales
Northern Beaches, New South Wales
Torquay, Bells Beach Victoria
Crescent Head, New South Wales
Margaret River – Yallingup and Prevelley Park, Western Australia
I know no surfers in our place, but my friend does since her boyfriend is a surfer. I hope I'll be able to see surfers, surfing personally. It would be too awesome since it'll be my first time then.