Browsing Category: "Getaway"
Just this month, that was December 2nd to be exact, we were able to join our previous swimming team to their Christmas Party. I tagged with me my niece Mariel as well; we met our friend in Jollibee at Ulas so we can go together in Cavanico Beach Resort in Samal. We arrived at the resort at least before noon. The resort was amazing; they have lots of things you can do there. The view is breathtaking, even if the  resort was a bit near the port. They were able to organize everything. The resort also has pool if you don't like to soak yourself in the beach. They have activities paraphernalia, like speed boat, banana boat, things that you can enjoy in water. The rooms that we rented is clean, beds stored there can accommodate 8 people. From the entrance, since the cottage we rented was a bit far, they have small cabs that you can ride to go to your cottage so you have the option to walk or get a ride.
Of course whenever you go to Samal, expect a white sand then.
My youngest daughter with her signature pose
I and niece in the bedroom 
Take a look at the view
If you want to check for more please visit their Facebook page and or you can contact them on this phone numbers: 09173207349, 09985809837. Landline numbers are: 082 225 1562 and 082 225 1625.
So we took their mini cab for us to get to the big pool. I really thought that Faith could not enjoy it there but thank GOD that the pool is not too deep and beside the big pool, there was actually a kiddie pool too. On the 2nd thought the big pool also have a shallow part.  What we enjoyed there  is the slide, it is long and its round but not that long as Blue Jazz had.
I also like the bucket on the top that when it is full, it will pour so hard on the slide going to the pool. Faith would always exclaimed. "Extreme!"
We definitely got wet but we had so much fun!
We did not spend out there for long, it was almost 5 in the afternoon at that time and we don't have planned to stay out late. Faith was disappointed since she really like to stay for hours there, but I promised her she can get some carousel rides she agreed with me, only to find out that the rides there were busted.
Till next post. 
When we were on our way to the beach last Sunday, I was already suspecting our car I just ignore it because I know if I do, I may not be brave enough to drive the car to the beach. Good thing, it survived even though it was very very hot. We arrived at the beach at 12: 00 noon we were already starving; we took our lunch right away.
My brother in law did not bring his motorcycle, sister said he doesn't have enough sleep so there is no way he can drive so they just took a taxi cab going to the beach with my daughter and her cousin Dodong. They enjoyed the barge so much that my sister can't help herself but to take some pictures.
We waited on queue on our way to the Barge, yeah we need to wait for almost an hour so we can bring the car to the venue, the car needs to be carried by the Barge. Good thing that while waiting I did not forget to take a picture of us. Sister Merlyn, Faith, Ate Moreen and Kuya Yan Yan were the one with me inside the car.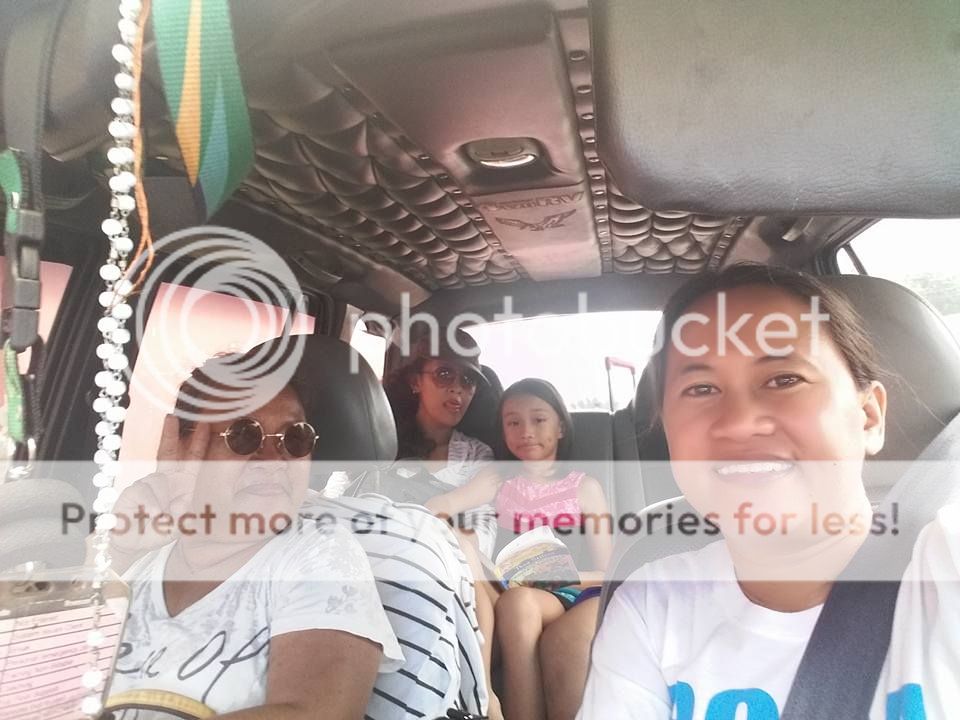 Finally, I was able to comply my youngest daughter this summer and that is going to the beach in one of the weekend this month. I thought I could not make it, but a promise is a promise so even though the budget is tight. I have to make it, I have to for them.
I did not bring only my kids for a small summer get away but the whole family, thank GOD because the foods were just enough until the next day. I know that I was worried and I even post it in my Sahm's Dining Diary that we might run out of food the next day before we checked out, which is today but viola, we did not. The viands were just enough; in fact we still have some left. On the other hand, Camp Holiday has some additional amenities that you may enjoy and that were the swimming pool for the hotel guests. I think at least it was not there before, my sister even confirmed that but maybe it has been a while that we didn't visit the place. The kids enjoyed it a lot, especially when it is not too shallow, Mj was able to dive and wore her favorite swim suit.
Faith, on the other hand ran around the place the whole day that when it was started to get dark she just stayed in the room the whole night watching TV and playing some games. The teenagers were still enjoying the pool, others were playing the billiard. I can hear them laughing in the guest room.
Now were at home tired and satisfied, but I still need to go out with kids a little bit later, Faith and Mj has Kumon to attend to at 4:00 in the afternoon and when I get home after two hours needed to sleep for work later. Ciao for now!