Browsing Category: "Travels"
Last year, I had a few numbers of team building and visiting some spots that I have never been before. Just last summer, I and the new team from the previous company, we were able to arrange an outing at D Leonor, I'd been with the place before and I guess that was the third time. I was able to visit their new pool for adults where we enjoyed a lot, it's not near with the cottage that we rented because we have to ride a cab going there, you cannot just walk. It is too far.
Before the summer ends I was able to organized an outing for my family, we went out to Camp Holiday; we rented a room for a night.  I was the hostess so I was the one who spent for that family outing. The family enjoyed the stay in that resort especially the kids.
Just before I resigned from work, I and my workmates agreed to visit the Kapatagan in Digos, we rented a van for us to tour the spots. Although it was raining when we went there, and it was muddy going to Camp Sabro, it was never a dull, we enjoyed the view a lot. We just keep on laughing the whole trip. I missed my friends, whom I became from my previous company, but I don't have to be sad all the time, I was able to make some friends with my new company.
After we graduated our training with the new company, I and my wave mates together with our trainer agreed to have some fun in one of the beach in Samal. It was just a small resort nothing really big on that resort but the important we were able to relax after the exhausting training.
And last but not the least was the recent trip that we had, we went to Buda just the first week of December, the fogs are just so nice to touch, especially when the night approaches, it was like cotton touching your skin. We rented a log house there; inside it was like you were staying in a house in the United States. I like the Alice Log House, I love the Hill View, if we were there early, we were able to touch the clouds in our bare hands but then it was already late when we arrived but the excitement did not stop from there. The view is very attractive, the nature is just so young and so sweet, I just hope that the place will be reserve and there will be no trees to be sacrificed so everyone can enjoy the scenery that the nature offers.
So we took their mini cab for us to get to the big pool. I really thought that Faith could not enjoy it there but thank GOD that the pool is not too deep and beside the big pool, there was actually a kiddie pool too. On the 2nd thought the big pool also have a shallow part.  What we enjoyed there  is the slide, it is long and its round but not that long as Blue Jazz had.
I also like the bucket on the top that when it is full, it will pour so hard on the slide going to the pool. Faith would always exclaimed. "Extreme!"
We definitely got wet but we had so much fun!
We did not spend out there for long, it was almost 5 in the afternoon at that time and we don't have planned to stay out late. Faith was disappointed since she really like to stay for hours there, but I promised her she can get some carousel rides she agreed with me, only to find out that the rides there were busted.
Till next post. 
I and my workmates are planning to travel, we were talking about Bohol but just this afternoon we were chatting about the discount package going to Palawan. The travel package is P3, 300 back and forth. The accommodation hotel is the Puerto Princesa, the cost is P1, 250.00/person. The package inclusion is Round Trip Airport transfer. 3 Days and 2 nights' accommodation at Romy's place 3 pax in a room. Daily breakfast is also included. Palawan is a nice place to spend summer vacation. There are number of spots that tourists always would like to visit and these are:
The Puerto Princesa Subterranean River, the famous underground river.
Honda Bay
Coron Island 
Calamian Islands
Pamalican
Calauit Safari Park
Manamoc 
Boayan Island
Nacpan Beach
Mitra's Ranch
Secret Lagoon
Matinloc Shrine
Corong Corong Beach 
Big Lagoon and more 
I am not sure yet what are the places that we can visit with the package that my friend recommended. We need to make an itinerary so to organize this upcoming travel.
Our swimming club team held the Christmas party in the first week of December. They went to Punta Del Sol in Samal to hold the party. I have posted the beach resort here.
On the other hand, here are the fun photos during the event. My eldest daughter enjoyed it so much, although she was not able to received her gift that day, the memories that it brought is worth her time, it is priceless.
Here's the whole swimming team in our club
Kids enjoying their swimming break for the moment, yes they are doing their training usually everyday. And this is the only time that they can just have fun, not minding their speed at all.
My eldest daughter and her friends, they're not actually so hungry. LOL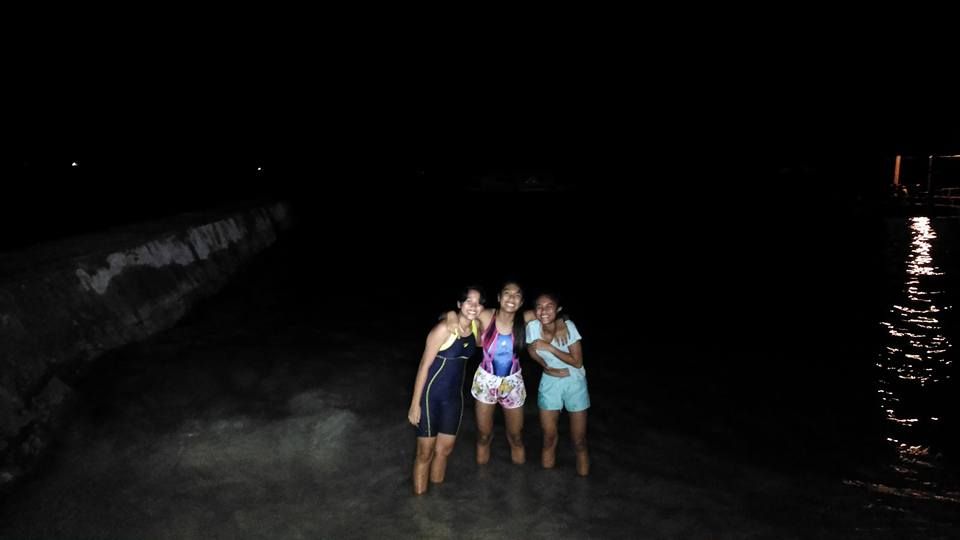 One of the closest she had in the swimming club
This was their pad for the night
Too bad I was not able to join since I had work at that time. Nonetheless I could had fun as well. Our team mate Christmas Party came afterwards. I will posting about next time.